John G. Rutland DMD, FAGD | Guntersville, AL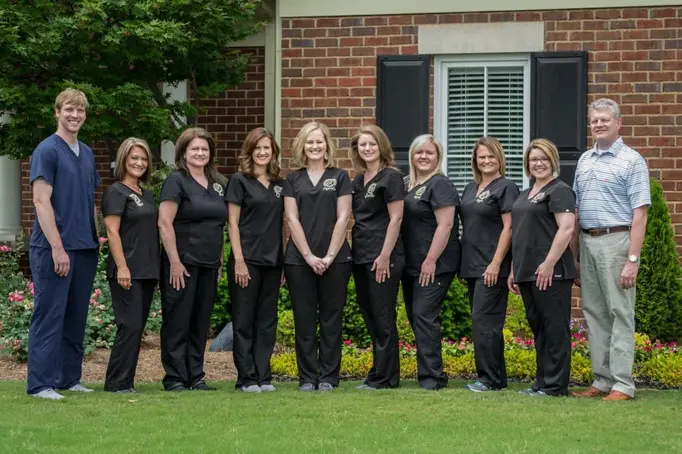 Office Coordinator

Amanda began working in the dental field in 2005 when she joined Dr. Rutland's team. She is our Office Coordinator and does a great job keeping our office running efficiently. Amanda is also responsible for our insurance and billing department. She makes everyone feel welcomed as she greets them at the front desk. Her organizational skills keep us running smoothly on a daily basis. She is married and has two children which keep her multi-tasking skills sharp.

Dental Hygienist

Sheila is one of our full-time hygienists and has been part of our team since 2004. She has an Associates degree in Dental Hygiene from Wallace State. She successfully completed the National Board Dental Hygiene Exam and the Southern Regional Exam to obtain her license in AL and TN as a Registered Dental Hygienist. Sheila started her career as a dental hygienist working with children in a pediatric office but soon realized her knowledge of the periodontal condition would be best utilized in a general practice where she can treat patients of all ages. She also serves as our office OSHA Coordinator and keeps the office updated with the most current OSHA guidelines to protect our staff and our patients. Sheila is married with 2 beautiful daughters and two granddaughters.

Clinical Assistant/Marketing Coordinator

Connie joined our staff in 2013. She began her career in densitry in 1987 as a dental assistant before taking time off to raise her children. She serves multiple roles in our office as a dental assistant and overseeing all of our marketing and social media. Connie enjoys taking care of our patients and takes pride in helping our pracitice provide excellent care for everyone. Connie is originally from Gadsden and is married with two daughters and two grandsons. She enjoys family time, exercising, and reading.

Dental Hygienist

Samanta began working in dentistry in 2010 after receiving her dental hygiene degree from Wallace State and earning her National Board certification. She joined our team in 2013 and has very quickly become an integral part of our team. Samantha enjoys focusing on patient education, and she enjoys treating patients of all ages. Samantha always greets our patients warmly and tries to make our patients experiences stress free. She is married and has one son and one daughter.

Scheduling & Treatment Coordinator

Laura joined our team in September of 2013 after working 14 years in the medical field. She serves as our scheduling and treatment coordinator. Laura is responsible for scheduling appointments, assisting patients with treatment plans and handling all referrals. Laura's smiling, friendly face brightens the office everyday. She enjoys working with our patients to help in scheduling timely, convenient appointments and explain needed treatment plus financial responsibilities. Laura is married and the mother of two sons.

Dental Hygienist

April joined our team as a Registererd Dental Hygienist in January 2015. She began her career in dentistry working for a periodontist as a surgical assistant in 2004. After working in periodontics for a few years, she began working as an assistant in general dentistry for six years. During this time, her passion for dentistry inspired her to further her education and become a dental hygienist. April completed the dental hygiene program at UAB in 2013. She is now able to use her past experience in periodontics and knowledge of various dental procedures to educate and treat our patients. Her devotion to our patients and friendly personality make it easy for our patients to feel comfortable with her. April is married to her childhood sweetheart, and they have two children, Mason and Addie.