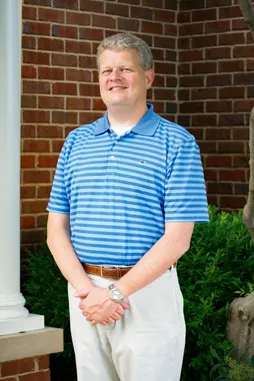 Dentist in Guntersville, AL
The brief descriptions below are designed to familiarize you with our staff's training, professional credentials and work experience.
John G. Rutland, DMD
Dr. Rutland practices in Guntersville where he grew up. He graduated from Guntersville High School and attended the University of Alabama for undergraduate studies. From the University of Alabama, Dr. Rutland was accepted to the dental school at the University of Alabama School of Dentistry. As one of the top five students in his class, he was chosen as the Hinman Scholar and was elected to membership in Omicron Kappa Upsilon dental honor society. At graduation he was presented the Birmingham District Dental Society award for his class for outstanding doctor/patient relations.
Upon graduation in 1996, Dr. John Rutland joined the dental practice of his father, Dr. Harry M. Rutland, Jr. To distinguish between the two Dr. Rutlands, John became known as "Dr. John". His father practiced dentistry for 36 years, and after his retirement in 2003 John established the current practice in a new office overlooking Lake Guntersville.
Dr. Rutland's professional interests include memberships in the Alabama Dental Association, the American Dental Association, the 5thDistrict Dental Society, the Tennessee Academy of Cosmetic Dentistry and the American Academy of Cosmetic Dentistry. Since graduation from dental school, Dr. Rutland has focused hundreds of hours of study mostly in the areas of cosmetic and advanced restorative dentistry. His continuing education focus includes Occlusal and Advanced Restorative Dentistry with the Dawson Center for the Advancement of Dentistry in St. Petersburg, FL., Cosmetic and Advanced Restorative Dentistry at the Seattle Institute of Advanced Dental Education in Seattle, WA. , and Restoration of Dental Implants at the South Central Restorative Learning Center in Little Rock, AR. In July of 2008 he was awarded the Academy of General Dentistry's Fellowship Award. Through membership in a local study club with other area general dentists and specialists, Dr. Rutland is able to lead discussion and participate with other members to help him stay on top of current topics and trends in dentistry.
Dr. Rutland and his wife, Kelli, have two children, Brady and Ella. They are active members of First Baptist Church in Guntersville where he serves as a deacon. He has served on the board of directors of CAJA of Marshall County. In his free time Dr. Rutland enjoys spending time and traveling with his family and following University of Alabama athletics.
What does Fellowship mean?


Achieving Fellowship in the Academy of General Dentistry is one of the few added distinctions a general dentist can achieve. The Academy of General Dentistry (AGD) is the only professional association serving the general dentist.
To earn Fellowship in the AGD, dentists must take more than 500 hours of educational courses in various disciplines. Candidates must also pass a rigorous exam. The award is then presented to general dentists in a formal ceremony. Dr John Rutland, DMD, FAGD is one of only 7 percent of general dentists who have achieved this honor. To learn more about this award or the AGD, visit www.agd.org